Dear Readers, Yes!
It's Time to Ratify CEDAW!

--
which is why I am passing on this e-mail;
Today, December 10, is Human Rights Day. According to the U.N.'s High Commissioner for Human Rights, this day is "an opportunity, every year, to celebrate human rights, highlight a specific issue, and advocate for the full enjoyment of all human rights by everyone everywhere." For

GlobalSolutions.org

, we're using this opportunity to promote women's rights, specifically as they are laid out in the Convention on the Elimination of All Forms of Discrimination Against Women (CEDAW).
Almost 20 years ago, then First Lady Hillary Clinton spoke at the U.N.'s 4th World Conference on Women, saying, "Let it be [established] that human rights are women's rights and women's rights are human rights once and for all." CEDAW is a landmark international agreement affirms the principles of fundamental human rights and equality for women around the world. CEDAW is a practical blueprint for each country to achieve progress for women and girls.
Ratification of CEDAW would strengthen the United States as a global leader in standing up for women and girls. To date, the United States is one of only seven countries that have not yet ratified CEDAW. As the only developed nation who has yet to do so, we're keeping company with nations like Somalia, Iran and Sudan.
Thanks to the record breaking number of women who will serve in the 113th Congress, there is significant momentum for the United States to play a leadership role on women's issues. Twenty female Senators will either return to or take office in the Senate-a truly historic accomplishment. Women's gains in the Senate reflects the American public's desire for meaningful and lasting change-the desire for women's rights to be a top priority.
Sign our petition telling the members of the U.S. Senate, male and female, that we want them to make women's rights a key focus of the 113th Congress by finally ratifying CEDAW. Sign this letter urging our Senators to continue breaking down barriers, not just for Americans, but for all women worldwide.
Your signature will be delivered personally on the first day of t
he new Congressional session, so sign now and share with your friends and family so we can send a strong message on the first day these Senators are in office.
CEDAW aspires to protect women's human rights and promote gender equality worldwide. Our record number of female Senators demonstrates America's commitment to focus seriously on gender equality, but this commitment will be undermined by the fact that we have yet to ratify CEDAW. It's time to change that. It's time to ratify CEDAW!
Thanks for all that you do.


Don Kraus,
Chief Executive Officer
Also on this Human Rights Day>>>
Amid fanfare, same-sex couples exchange

marriage

vows in Seattle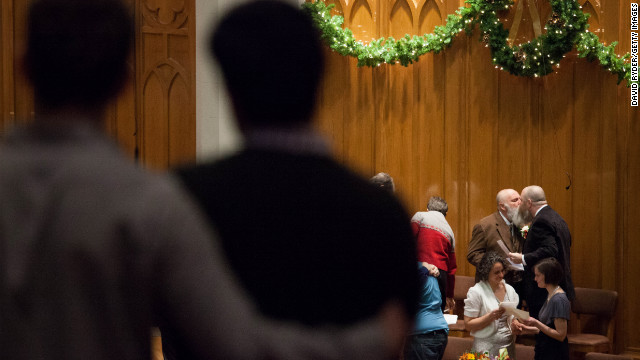 (CNN) -- Boutonnieres, photographers, smiles and tears of joy -- requisite wedding fixtures -- abounded Sunday at Seattle's City Hall.


But for 133 couples, the day's fanfare brought an extra dimension.

After exchanging vows at five stations set up in City Hall, they walked outside and down rain-slickened steps, greeted by cheers, confetti and a brass band celebrating the first day same-sex couples could marry in Washington. READ MORE!!!!
CONGRATULATIONS, Indeed!!!
The United States Supreme Court is about to hear 2 cases that involve Gay Marriage/Equal Marriage--It is the Hope and Pray of this blogger that the Supreme Court Sides with Tolerance and Justice--It is a Human Right to be treated Equally, by having the same Rights as our fellow Humans.