(CNN)
-- It was inevitable that the fiery politics of the death penalty would punctuate Saturday's remembrance of Troy Anthony Davis.
His 20 years of claims of innocence on Georgia's death row earned him millions of supporters who believe the state wrongfully executed him on the night of September 21.
Saturday, Davis' family and closest friends gathered inside the Jonesville Baptist Church to celebrate his life.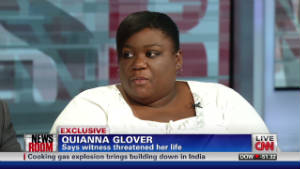 Witness: I believe Davis is innocent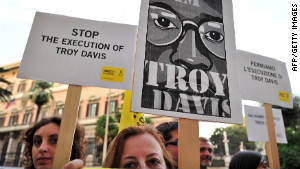 Troy Davis offers blessing as last words
A mass of flowers covered Davis' closed casket. Two photos flanked it -- one a color portrait of a young boy who grew up on the streets of Savannah's Cloverdale neighborhood and the other a black and white photo of a young man in a suit attending his murder trial.
Those in attendance repeatedly chanted: "I am Troy Davis," the slogan adopted in the campaign to spare his life and one that went viral on social media networks.
"Look at those last two lines of your program today," said Benjamin Jealous, president of the NAACP. "I am Troy Davis. And I am free."
Jealous and other friends and advocates for Davis, including his lawyer, Jason Ewart, voiced Davis' last words before he was put to death by lethal injection. That he was sorry for the family of police Officer Mark MacPhail, but that he was innocent.
"We're going to keep on fighting until his name is finally cleared and Georgia admits what it has done," Jealous said. "We're going to keep on fighting until the death penalty is abolished and this can never be done to anyone else."
As one of the many, many signers of the petition to save Troy Davis life; Yes, I believe in the death penalty, BUT Only when the person is guilty beyond any shadow of doubt. The problem with executing where there is doubt, when the real truth is found out. There will still be no way possible to give the person back their life.
Yes, I did edit out what the late officer's Mother said, because what she said was IMO pure vengeance, not justice. I believe in Justice, Not vengeance.
God Forgive Us All, for the death of an Innocent Man. May Mr. Troy Davis Rest In Peace with 'Abraham, Martin and John'.