By Richard Heinberg, Post Carbon Institute

The world will face limits to energy production in the decades ahead regardless of the energy pathway chosen by policy makers. READ MORE»
By Jill Richardson, Other Words

Working hard for 40 hours a week should guarantee a living wage. Who does it benefit if Americans lack the time, money, and resources to feed their families healthy food? READ MORE»
Which Is Why>>>>>
Voting For

Clean Energy

is Good Politics
Dear Readers, I am passing on this e-mail;
Americans vote for politicians who support clean energy and public health, and we have the numbers to prove it. In the 2012 election cycle, voters swept clean energy and climate champions into office up and down the ticket and in red states and blue states. Environmental supporters triumphed even though polluters spent hundreds of millions of dollars to bully them and promote a dirty agenda. But in the end, nearly all of the polluter-friendly candidates lost, and leaders who fight for our air, water, and climate won. Will you help us get the word out that clean energy isn't just good policy, it's good politics?



Up and down the ticket, polluters had the money; but they didn't have the votes. Americans swept clean energy champions into office, not polluters' pets.





WATCH and SHARE THE NRDC ACTION FUND RUNNING CLEAN REPORT AND CANDIDATE VIDEOS TO SPREAD THE WORD THAT CLEAN ENERGY IS WINNING POLITICS.



Last election, millions of Americans overwhelmingly supported clean energy candidates. Election night polling showed regardless of party or demographics, nearly 2 of every 3 voters, 64 percent, have a favorable impression of renewable energy, compared to only 13 percent who say they have an unfavorable impression. This was despite the massive investments by polluters pushing their dirty agenda. When given the chance to choose a future of investing in renewable energy sources and a clean energy economy, voters time and time again chose the candidates who were Running Clean.

This week the NRDC Action Fund released a new in-depth report and video series called Running Clean, which follows the success of candidates who chose to run their campaigns on clean energy, clean air, conservation and protecting the environment and public health. This cycle the report contains case studies on candidates: President Barack Obama and Senator Angus King (I-Maine) with additional video interviews with Senators

Tim Kaine (D-Virginia)

,

Jon Tester (D-Montana)

,

Martin Heinrich (D-New Mexico)

and

Mazie Hirono (D-Hawaii)

.
Running Clean is a political playbook, which shows candidates how to use these messages as effective campaign tools, how to replicate and run a campaign that effectively uses a pro-environment message, and the best practices of running clean.

It's simple, Running Clean works. And these candidates are helping to grow the environmental majority across America. Now is the time for future candidates from both sides of the aisle to begin looking for opportunities to embrace these issues, because ultimately, these are the values represented by their voters and what's best for our future.

But, don't take my word for it.

Read the report

and watch Senators

Kaine

,

Tester

,

Heinrich

and

Hirono

tell you in their own words why Running Clean is a winning strategy.



Sincerely,
Peter Lehner
Executive Director
NRDC Action Fund
So let us go back to rebuilding this Global Economy and Global Health>>>>
Follow this guide, and your meetings are guaranteed to be as dull, mismanaged and ultimately pointless as everyone expects.

Read more »
So let us remember the business of business is to get work done, that way there is no excuse to shaft the worker who is indeed worthy of their wages.
Don't wait until you're out of a job to start preparing for a new one. Use these tips to begin now and be ready no matter what the future has in store for you.

Read more »
Yes, We Need More people out of poverty and into the Middle Class. This is only the beginning.
It's easy to come up with an idea for an Internet business. But making your Internet business profitable? Here's how to make sure you succeed.

Read more »
Yes, We Need More Businesses to succeed. That way their employees can afford to be consumers.
Think Sheryl Sandberg's book Lean In doesn't apply to you? Here's why it might.

Read more »
Yes, this does sound like one very very good book. In 2 days, I get my new credit point from Amazon. I am torn between this book and a couple of others.
Speaking of Green Jobs, that is why>>>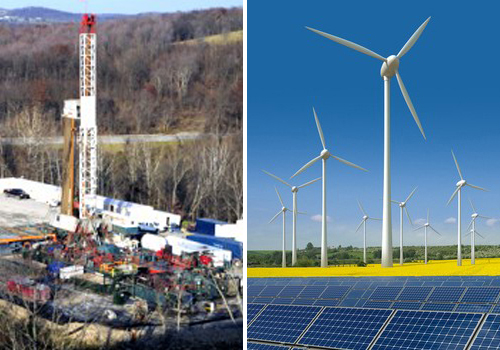 Jay Warmke

But just how real is this fracking boom when compared with other developments within the energy industry—specifically the exponential growth of renewable energy...
Which means that there is a petition that needs to be signed, even if you think you have signed already, after all, better save than sorry, that is if you are anything like me and have signed so many petitions that it is hard to remember which ones I have or have not signed. For me, it is far easier to recognize a petition that I like or dislike than one that I have signed, already;
A Promise Is A Promise, President Obama
In his State of the Union address, President Obama said that drilling and fracking for natural gas would only happen "without putting the health and safety of our citizens at risk." But oil and gas companies are lobbying hard to get him to go back on his word -- and it may be working! We need to push back.

The Department of the Interior and the Environmental Protection Agency are preparing to issue regulations that do not require fracking companies to disclose which chemicals will be pumped into the ground. Communities need improved regulations that favor the environment and healthy citizens, not set up the potential for fracking-related pollution and other issues.

Oil and gas companies shouldn't be allowed to keep information like this hidden from the public. Sign the petition and remind President Obama to remember his promise to create safer fracking regulations.