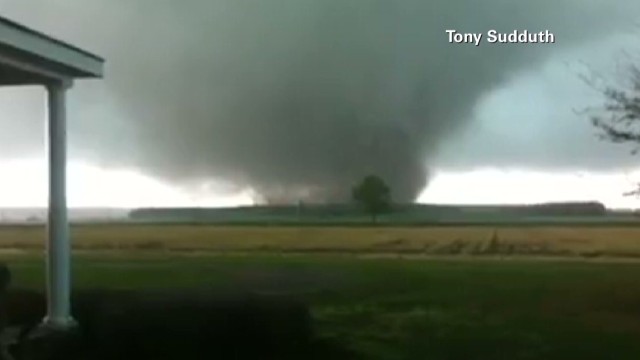 (CNN) -- A powerful storm that swept across the country will lose its fury Friday and blow out over the Atlantic by day's end, forecasters said.


The weather system stretched from Canada to the Gulf of Mexico on Thursday, and dumped snow in the north central and northeastern United States.

In the Ohio and Mississippi valleys, it poured torrential rain and spawned tornadoes in the Deep South....Read and Watch.
This is why we must take responsibility for Global Warming/ Climate Change/ Pollution or whatever else it can be called, any which way it is looked at or called. It is still our responsibility to clean up our act.
Cal
-- e360.yale.edu
The Danish capital is moving rapidly toward a zero-carbon future, as it erects wind farms, transforms its citywide heating systems, promotes energy efficiency, and lures more people out of their cars and onto public transportation and bike.....
THANK YOU COPENHAGEN!!!!
Cal
-- takepart.com
A new exterior tile helps neutralize the chemicals present in pollution.....
THANK YOU MEXICO!!!!!
Cher
-- livinggreenmag.com
Solar leasing is increasingly becoming an option for homeowners who can't afford the full cost of solar panels--allowing more people to join the green energy movement....
Maybe, just maybe, I can still do my part also. After all, when I had my financial set back, I was afraid that it would delay my solar panels, now maybe this will still be the year that I can afford to put my money where my big mouth is.
And finally, please sign Kathy's petition--Thank You.
Kathy
-- petitions.whitehouse.gov
Numerous recent studies link the CCD (Colony Collapse Disorder) of honeybees to the use of certain Neonicotinoid pesticides (e.g. imidacloprid, clothianidin, thiamethoxam). Population of honeybee colonies has been dropping at an alarming rate since 2006